Tenant Information


Tenant Application Procedure - Tenant Maintenance Request Procedure - Renters insurance - Utilities - School Districts -
Tenant Move Out Procedure - Fair Housing Statement

Tenant Application Procedure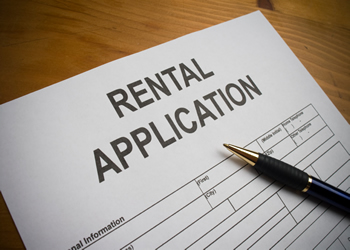 The first step in applying for a rental is completing a rental application. Applications can be downloaded and printed here and here, or you will receive one when you view a property. Each adult who will be occupying the rental property will need to be included on an application. Spouses can fill out one application, with one spouse listed under first applicant and the other listed under second applicant. Roommates will need to fill out separate applications.

We have a $55 application fee per applicant or $70 per married couples.

Please take the time to fill out the application completely and sign and date on the second page. The application process includes a credit check, rental reference check, background check, and verification of employment. The process usually takes 1-2 business days.

Upon approval of your application, a rental agreement must be signed and a security deposit paid to hold the rental property to the agreed upon move-in date. All remaining deposits and rent must be paid in full prior to move-in. Payment can be made with cash, check, money order or cashiers check.

Please feel free to contact us with any questions about our application process or any other rental needs.

Tenant Maintenance Request Procedure
Maintenance and repair requests can be made by phone, e-mail, or include a note with rent payment. We will need your name, address and telephone number and a description of what needs to be repaired. A maintenance person or an appropriate company that each owner subcontracts work with will contact you regarding maintenance or repair.

What constitutes an emergency?
A maintenance emergency is any repair necessary which if not immediately fixed could result in endangering any individual or can cause extreme, unnecessary damage to the property. For example: gas leaks, main line plumbing breaks, electrical shortages, sewage back up, second story water leaks, etc.


Who pays for repairs in my unit?
You will only be billed for repairs if the repair was a direct result of actions that were the tenant's responsibility.


What happens if I lose my keys?
There will be a $25 fee for someone to meet you at the property to open your unit for you.  A $10 fee for you to pick up a key at the office.


Can I get reimbursed for repairs I make on my own?
No, not unless they were initially approved by our office staff.


For Non-Emergency situations
All non-emergency maintenance requests are performed in accordance with the following procedure:
Submit a request by phone, e-mail, or note.


An appropriate maintenance person will contact you to set an appointment.


Tenant must allow the maintenance vendor technician or contractor reasonable access to your home.
If you can not be home, you must make arrangement with the property manager to gain access to your home in your absence.

Renters insurance
All residents are required to show documentation of renter's insurance policy.  We recommend Rob Hamann Agency Inc., American Family.


Utilities
Laclede Gas            http://www.lacledegas.com/
Ameren UE              http://www.ameren.com/sites/aue/csc/Pages/TurnOnHomeServiceMO.aspx
Allied Waste            http://stlouis.disposal.com/request_services.aspx
Grace Hauling         http://www.merchantcircle.com/business/Grace.Hauling.636-398-8060
AT&T                          http://www.att.com/
Charter Comm.       http://www.charter.com/Visitors/Home.aspx
City of O'Fallon        http://www.ofallon.mo.us/
City of Wentzville     http://www.wentzvillemo.org/
City of St. Peters      http://stpetersmo.net/
City of St. Charles   http://www.stcharlescitymo.gov/
School Districts
St. Charles            http://www.stcharles.k12.mo.us/
Francis Howell     http://204.184.37.59/Home/tabid/37/Default.aspx
Fort Zumwalt        http://204.184.37.59/Home/tabid/37/Default.aspx
Wentzville             http://www.wentzville.k12.mo.us/


Tenant Move Out Procedure
When you are ready to move out of your rental property, a minimum 30-day written notice must be given. During the 30 days prior to your move out, we will advertise the property for rent and schedule appointments to show the property. Please be sure to provide our office with current home, work and/or cell telephone numbers so that we can contact you in advance for appointments.
Contact us the week prior to your move out date so we may schedule a walk-through date and time.  Make sure you have all utilities taken out of your name, NOT SHUT OFF; most properties are on a leave on agreement with utility companies.  It is also important that you pay any balances due prior to moving, and your final bills should go to your new address.
Security deposit DOES NOT apply toward last month's rent. 
All keys and garage door openers must be returned to our office or locked inside the property before final inspection for the return of your security deposit.

Security deposits will be returned within 30 days of your move out. Be sure to provide our office with your forwarding address and telephone number.

For your convenience, a cleaning checklist can be downloaded and printed here . It is a basic guideline of the things we will be checking for during final inspection. Please keep in mind, some things on the list may not apply to the home you are renting and there may be other things that need to be addressed that are not on the list.
Please feel free to contact us with any questions regarding your move out or other rental needs.

Fair Housing Statement
Young Property Management and its employees operate in compliance with the Fair Housing Act (The Civil Rights Act of 1968, as amended by the Fair Housing Amendments Act of 1988), as well as all state and local laws regarding fair housing and equal opportunity. IT IS ILLEGAL TO DISCRIMINATE AGAINST ANY PERSON BECAUSE OF RACE, COLOR, NATIONAL ORIGIN, RELIGION, SEX, DISABILITY, or FAMILIAL STATUS ("Familial Status" means one or more individual under 18 living with either a parent or other authorized person, and also applies to any person who is pregnant or in the process of securing custody or a minor child), TO ADVERTISE ANY PREFERENCE, LIMITATION, OR DISCRIMINATION BASED ON ANY OF THE FOREGOING, OR TO ADVERTISE ANY INTENTION TO MAKE ANY SUCH PREFERENCE, LIMITATION, OR DISCRIMINATION. State or local law may provide additional protections. All persons are hereby informed that all dwellings managed by Young Property Management are available on an equal opportunity basis.